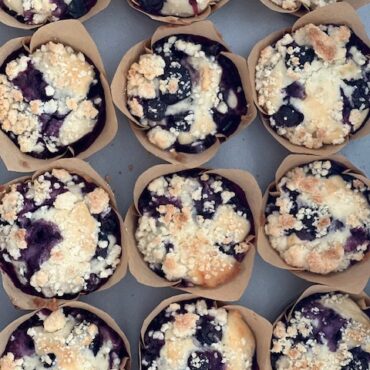 Boxx Blueberry Muffins
Yummy blueberry muffins made with our own Boxx Blueberries!
Ingredients
Blueberry Muffins
2

Cups

Flour

2

tsp

Baking Powder

1/2

tsp

salt

1/4

Cup

Butter, Melted

1/4

Cup

Oil

3/4

Cup

Sugar

2

Large Eggs

1

tsp

vanilla

3/4

Cup

Milk

2

Cups

Fresh or Frozen Blueberries
Crumb Topping
2/3

Cup

Flour

1/8

tsp

Salt

1/3

Cup

Sugar

4

Tbsp

Butter, Melted
Instructions
Heat oven to 375 degrees. Either line your muffin tins with baking cups or grease well with cooking spray.

In a medium-sized bowl, mix together the flour, baking powder and salt. Set aside.

In a large bowl, mix together the melted butter, oil, and sugar with a fork until smooth. Add the eggs, vanilla and milk and mix well until all ingredients are combined.

Add the flour ingredients into the liquid ingredients and stir just until most of it is well-incorporated. Fold in the blueberries very carefully. Don't smash them or stir too vigorously. If you are using frozen blueberries, toss them lightly in just a little flour before folding into batter. Do not defrost your frozen blueberries before adding to the mixture.

Fill each baking cup 3/4 full and feel free to add a few extra blueberries to the top of each muffin. That's what I do.

In small bowl, mix crumb topping ingredients well. I used a tablespoon to evenly distribute the crumb topping to the top of each muffin.

Bake for 20-25 minutes until done. Time will vary with different ovens so what I did was set a timer at 20 minutes and then watched closely from there on. Cool completely before eating. Those blueberries will be hot so if not cooled completely, at least be careful before eating.

Last, but not least, Enjoy!
Boxx's Pesto Recipe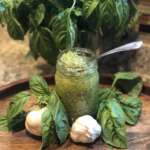 This pesto recipe has been being made by our mother, Charlene Boxx, for years. It's amazing!
3 Cups Loosely Packed Fresh Basil
3/4 Cup Olive Oil (We use extra virgin olive oil)
1/2 Cup Pine Nuts (Almonds or walnuts will work also)
3 Cloves Garlic (We use lots of garlic; add or reduce for your taste)
1/2 tsp Salt
3/4 Cup Parmesan and Romano Cheese (combined) (Freshly grated or pre-grated cheese works)
In a food processor, blend nuts, garlic and salt.
Add basil leaves. Continue blending.
Slowly add olive oil.
Add cheese and continue blending until desired consistency.**If you plan on freezing, do not add cheese until after your pesto is thawed.**
Put in covered containers in fridge; keeps up to 3 weeks.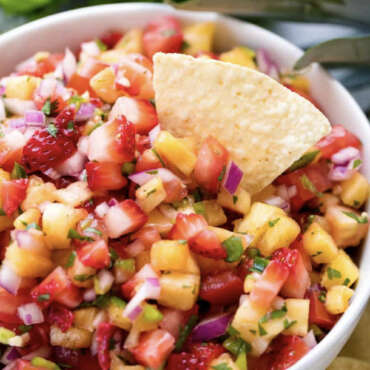 Strawberry Pineapple Salsa
A delicious fruit salsa...
Ingredients
1-1/2

Cups

Fresh Diced Pineapple

1-1/2

Cups

Fresh Diced Strawberries

1

Medium Red Bell Pepper, Diced

1

Jalapeno, Seeded and Diced

1/4

Cup

Red Onion, Minced

1/2

Cup

Cilantro, Chopped

4

Tbsp

Lime Juice (about 2 limes)

1/8

tsp

salt
Instructions
Mix all ingredients together in bowl. Refrigerate for about an hour. Serve with tortilla chips or with chicken or fish.
Notes
This recipe was made with fresh pineapple.
Cut a pineapple lengthwise and hollow out to use as a fun bowl for serving salsa.
Add more or less of ingredients based on personal taste
Enjoy!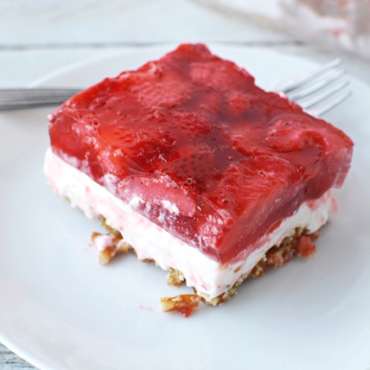 Strawberry Pretzel Dessert
A Boxx Family Favorite...
Ingredients
2

Cups

Crushed Pretzels

3/4

Cup

Butter ( melted)

3

Tbsp

Sugar
Creamy Filling
8

Oz

Cream Cheese Softened

3/4

Cup

Sugar

8

Oz

Cool Whip
Strawberry Topping
6

Oz

Jello-O

2

Cups

Boiling Water

4

Cups

Sliced Strawberries
Instructions
Preheat oven to 375 degrees.

Combine crushed pretzels, sugar and butter in a bowl and press into the bottom of a 9x13 pan. Bake 10 minutes and cool completely.

In a medium bowl, mix cream cheese and sugar with a mixer on medium until fluffy. Gently fold in Cool Whip. Spread mixture evenly over the cooled crust and refrigerate at least 1 hour.

In a large mixing bowl combine Jell-O and boiling water until jello is dissolved. Allow mixture to sit at room temperature until completely cooled.

Place sliced strawberries over the cream cheese mixture. Pour cooled Jell-O overtop.

Refrigerate until firmly set at least 4-6 hours or overnight.
Notes
Allow each layer to cool/chill before adding the next layer.
Spread the cream cheese layer all the way to the edge to prevent the pretzel crust from becoming soggy.
Allow the Jell-O to cool to room temperature before pouring on the fresh strawberries so the heat doesn't wilt them.
Use whipped topping, not fresh whipped cream. The whipped topping is a more stable ingredient that sets more firmly.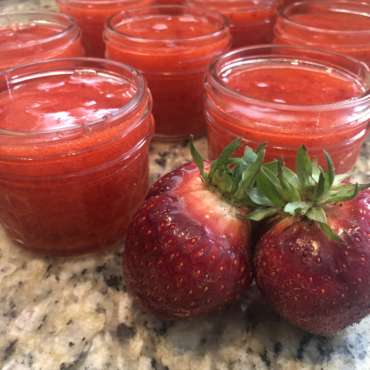 Boxx Strawberry Freezer Jam
The easiest freezer jam recipe!
Ingredients
2

Cups

Sliced or crushed strawberries

4

Cups

Sugar

3/4

Cup

Water

1

Pkg

SURE-JELL Fruit Pectin
Instructions
Rinse 5 (1-Cup) containers. You can use plastic or glass; we prefer 4 oz glass jars. If you use 4 oz glass jars like us, you will need 10 half-cup containers. Dry containers thoroughly after rinsing.

Prep strawberries by cleaning, removing stems and slicing or crushing one cup at a time. Or use our already sliced Boxx strawberries in our 3.5 lb, 6 lb, or 15 lb pails.

Measure exactly 2 cups of strawberries into large bowl. Stir in sugar. Let stand 10 mins, stirring occasionally.

Mix pectin and water in small saucepan on stove. Bring to boil on high heat, stirring constantly. Continue to boil and stir for one minute.

Add to fruit mixture and stir for 3 minutes or until most sugar has dissolved. Please note that a few sugar crystals may remain.

Fill containers immediately to within a half-inch of tops. Wipe off top edges of containers. Immediately cover with lids.

Let stand at room temperature for 24 hours. Store in refrigerator up to 3 weeks or freezer for up to 1 year. If frozen, thaw in refrigerator before using.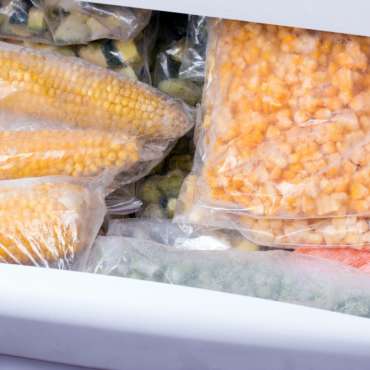 Boxx Berry Farm Freezer Corn
This is the best corn recipe we've ever come across yet.
Ingredients
9

cups

Cut Corn

3

Cups

Water

1/2

tbsp

Salt
Instructions
Bring corn, water, and salt barely to a boil.

Cool and Bag in quart size freezer bag

Lay bags flat on a cookie sheet in freezer until they start to freeze.
Notes
Simply cut corn off the cob raw, you do not need to blanch first. 
Put about 1-2 cups of corn in bag depending on size of family.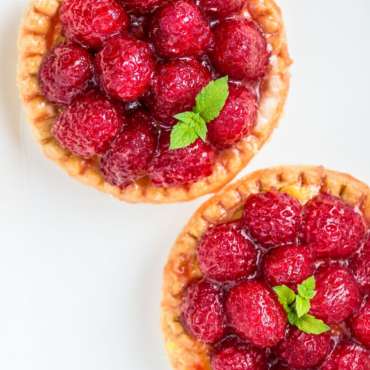 Raspberry Cream Pie
Ingredients
1

8oz

Package Cream Cheese

Softened

1

Container (13.5 oz)

Cool Whip

2

tbsp

Powdered Sugar

2 baked

9 inch

Cracker Crusts

2 pkgs

10 oz each

Frozen Raspberries

2

tbsp

Cornstarch
Instructions
Beat cream cheese till light.

Fold in cool whip, add powdered sugar. 

Pour into 2 crusts.  Chill. 

Defrost and drain raspberries, reserve syrup.

Combine syrup with cornstarch and cook over medium heat till thick and clear. 

Add raspberries; cool completely.

Spoon over pie and keep chilled till serving.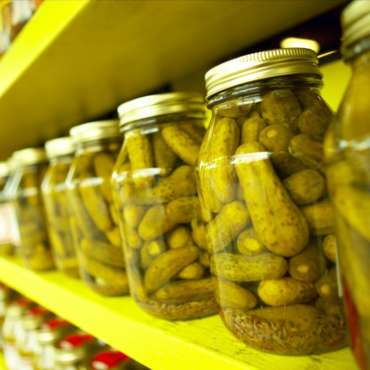 Sweet Gerkins Pickles
Ingredients
1

cup

Salt

2

quarts

Water

6

pints

Cucumbers

1

tbsp

Alum

1 1/2

tbsp

Mixed Picking Spices

5

Cups

Sugar

5

Cups

Vinegar
Instructions
 Put cucumbers in enamel or stainless steel container. 

Add salt to water and bring to boiling.  Pour over cucumbers.

Cover with plate. Let stand for 1 week (scum will form, remove this daily). 

  Drain, discarding brine. Rinse cucumbers thoroughly. 

Cover with boiling water, let stand 24 hours. 

Drain.  Tie spices in cheesecloth bag.

Add to sugar and vinegar in a large pot.  Bring to boil. 

Pour over cucumbers, cover and let stand 24 hours again. Drain syrup in a pot and bring back to a boil, pour over cucumbers again.  Repeat this process every day for 4 days. 

Pack pickles in hot jars, leaving 1/4 inch head space. Remove spice bag.  Heat syrup to boiling and pour boiling water over pickles leaving 1/2 inch head space. Process pints in 15 minute boiling water bath.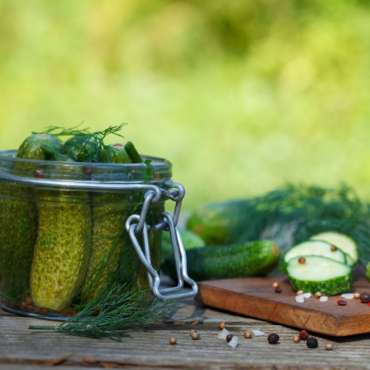 Ella's Dill Pickles
Ingredients
10

lbs

Cucumber

 

1

quart

White Vinegar

2

quart

Water

2/3

cup

Plain Salt

Garlic

Dill
Instructions
Wash each cucumber with brush.  Pack in jars with plenty of dill and garlic in bottom and top.

With cover on the kettle, boil together 15 min. with the following ingredients: 1 quart white vinegar, 2 quarts water, and 2/3 cup plain salt. 

Set jars in hot water, keep lids hot. 

Pour hot brine to fill jars and seal.  May be processed 5 minutes if they don't seal.

Yields about 7 quarts, using about 10 lbs of cucumbers.
Notes
Tip: To seal without heating on stove:  if you heat too much your pickles could get ruined.  Instead you might try pouring the hottest tap water possible into jar with pickles in first, then dump off.  This way your brine is still very hot and will seal a lot easier.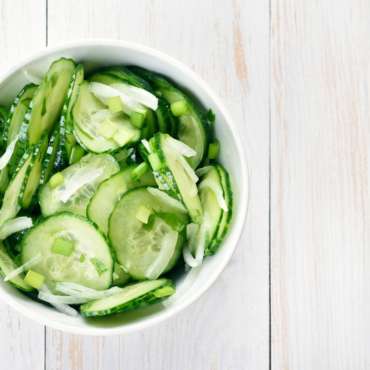 Cucumber Chips
Ingredients
1

gallon

Sliced Cucumbers

2

Sliced Onions

4

cups

Vinegar

1/2

cup

Salt

4

cups

Sugar

1 1/2

tsp

Tumeric

1 1/2

tsp

Mustard Seed
Instructions
Combine all ingredient in a bowl. Simply stir brine and pour over cucumbers. (Don't Boil!)